The Maid Saw and Was Seen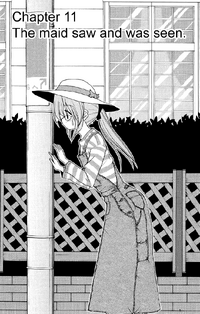 Chapter Info
| | |
| --- | --- |
| Volume | 13 |
| MyFirstBIG Volume | 3 |
| Chapter | 140 |
| Japanese Title | それがどんな無茶振りでも男の子には女の子の期待に応える義務がある |
| Romanized Title | Sore ga don'na muchafuri demo otokonoko ni wa on'nanoko no kitai ni kotaeru gimu ga aru |
| Viz Title | The Maid Saw It and Has Been Seen |
| Cover Character(s) | Maria |
| Total Pages | 16 |
| Year Released | 2007 |
Chapter Chronology
Hayate no Gotoku! Chapter 140: The Maid Saw and Was Seen (それがどんな無茶振りでも男の子には女の子の期待に応える義務がある, Sore ga don'na muchafuri demo otokonoko ni wa on'nanoko no kitai ni kotaeru gimu ga aru?)
Characters in Order of Appearance
Summary
Anime Adaption
Trivia
After disguising Maria in a nurse's outfit, one of the Sanzenin SP's says the phrase "The sister is more important than defeating Britannia". This is a reference to the series Code Geass.
After Nagi had said that Café Donguri would go out of business, Hayate says "even though we're going through some tough times, the comapny as a whole is still profitable". In this sequence a Sony PlayStation 2, PlayStation 3 and a PlayStation Portable can be seen.
Having been asked by Ayumu if she was working because she was bankrupt, Nagi callously suggests that she'd buy the three publishers of One Piece, Conan and Zetsubou-Sensei and serialize them in one magazine . This is a reference to the three publishers Shueisha, Shogakukan and Kodansha.