When This New Classmate Joined This Term, I Never Thought She Would Become Cute by the End of Term. How Mysterious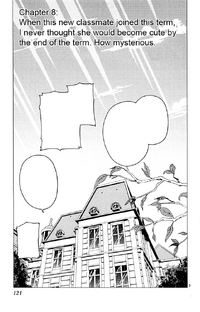 Chapter Info
| | |
| --- | --- |
| Volume | 14 |
| Chapter | 148 |
| Japanese Title | 新学期の新しいクラスになったときはなんとも思わなかった子が学期末には可愛く見えてくる不思議 |
| Romanized Title | Shin gakki no atarashī kurasu ni natta toki wa nantomo omowanakatta ko ga gakki-sue ni wa kawaiku miete kuru fushigi |
| Viz Title | It's a Mystery How a Girl You Didn't Notice at the Beginning of the Term Starts Looking Cute by the End |
| Total Pages | 16 |
| Year Released | 2008 |
Chapter Chronology
Hayate no Gotoku! Chapter 148: When This New Classmate Joined This Term, I Never Thought She Would Become Cute by the End of Term. How Mysterious (新学期の新しいクラスになったときはなんとも思わなかった子が学期末には可愛く見えてくる不思議, Shin gakki no atarashī kurasu ni natta toki wa nantomo omowanakatta ko ga gakki-sue ni wa kawaiku miete kuru fushigi?)
Characters in Order of Appearance
Summary
Anime Adaption
Trivia
On the class roster, it gives hints on characters that are in Nagi and Hayate's class.
The class roster that Yukiji shows to Hayate and Nagi is actually a reference to the series Mahou Sensei Negima!. Notice the writing in the class roster: it's the same as Negi's class roster.
Additionally, the students on the class roster are shown to be wearing masks similar to the one worn by Friend from the series 20th Century Boys.