The Lively Couple in a So-called 'Date'. It'll be Nice if no Awful Thing Like a Disease Called Stomachache Occurs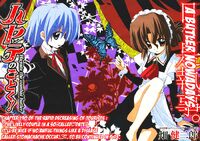 Chapter Info
Volume
18
MyFirstBIG Volume
3
Chapter
190
Japanese Title
イチャイチャしているカップルがデートとかするともれなくちょっと腹痛になるという病気が発生すればいいのに…
Romanized Title
Ichaicha shite iru kappuru ga dēto toka suruto morenaku chotto fukutsū ni naru to iu byōki ga hassei sureba īnoni…
Cover Character(s)
Hayate Ayasaki
Maria
Total Pages
16
Year Released
2009
Chapter Chronology
Hayate no Gotoku! Chapter 190: The Lively Couple in a So-called 'Date'. It'll be Nice if no Awful Thing Like a Disease Called Stomachache Occurs (イチャイチャしているカップルがデートとかするともれなくちょっと腹痛になるという病気が発生すればいいのに…, Ichaicha shite iru kappuru ga dēto toka suruto morenaku chotto fukutsū ni naru to iu byōki ga hassei sureba īnoni…?)
Characters in Order of Appearance
Summary
Anime Adaption
Trivia
In Hayate's flashback, Nagi mentions that "yanderes look frail, but once they pick up a sword they'll be faster than the Hiten **** sword sytle." This is a reference to the Hiten Mitsurugi-ryū sword style from the series Rurouni Kenshin. 
While in the shopping mall, a sign above Hinagiku reading Dr. Hauschkaa can be seen. This is a reference to the brand name Dr. Hauschka skin care products and cosmetics.
Community content is available under
CC-BY-SA
unless otherwise noted.