No Matter What They Say, People Want to Be Loved More Than To Love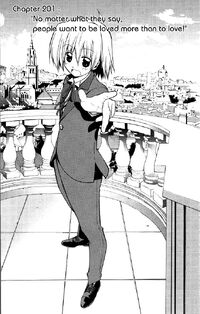 Chapter Info
| | |
| --- | --- |
| Volume | 19 |
| Chapter | 201 |
| Japanese Title | なんだかんだ言っても人間は愛するよりも愛されたいのだ! |
| Romanized Title | Nandakanda itte mo ningen wa aisuru yori mo aisa retai noda! |
| Cover Character(s) | Hayate Ayasaki |
| Total Pages | 16 |
| Year Released | 2009 |
Chapter Chronology
Hayate no Gotoku! Chapter 201: No Matter What They Say, People Want to Be Loved More Than To Love (なんだかんだ言っても人間は愛するよりも愛されたいのだ!, Nandakanda itte mo ningen wa aisuru yori mo aisa retai noda!?)
Characters in Order of Appearance
Summary
Trivia
While outside playing a game, the computer hard drive Nagi is seen with has a Valo logo. This is a parody of Vaio.

Additionally, the monitor Nagi uses is labeled with a Hell logo. This is a parody of Dell.

Yomi Kyoubashi makes her first appearance.
After having learned of the "stage of boredom" from a TV program, Nagi envisions characters that resemble Jin Mikuriya and Nagi from Kannagi: Crazy Shrine Maidens.