Limited Edition Goods Are a Pain For the People Who Make Them, Too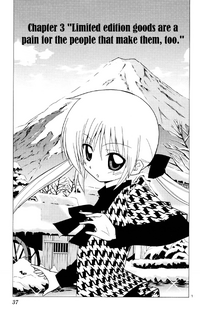 Chapter Info
| | |
| --- | --- |
| Volume | 20 |
| Chapter | 209 |
| Japanese Title | 限定グッズは作る方も実は大変 |
| Romanized Title | Gentei guzzu wa tsukuru kata mo jitsuwa taihen |
| Cover Character(s) | Nagi Sanzenin |
| Total Pages | 16 |
| Year Released | 2009 |
Chapter Chronology
Hayate no Gotoku! Chapter 209: Limited Edition Goods Are a Pain For the People Who Make Them, Too (限定グッズは作る方も実は大変, Gentei guzzu wa tsukuru kata mo jitsuwa taihen?)
Characters in Order of Appearance
Summary
Trivia
While watching TV, Nagi sees a commercial for the Blu-ray release of Mobile Battleship Nadecata. This is a parody of the series Mobile Battleship Nadesico.
After calling Hayate, Nagi tells him that they're going to An*mate. This is a reference to the store Animate.
While giving Hayate her reasons on buying the Blu-ray disk, Nagi brings up the anime movie Laputa: Castle in the Sky.
While admiring the merchandise in Animate, Animate's mascot "Meito Anizawa" also known as "Anime Tenchou" can be seen behind Nagi on a product in the backround.
While sneaking into the R-18 section of the store, Nagi drops a Nendoroid figure of Louise from the series Zero no Tsukaima.
As Hayate learned that the Mobile Battleship Nadecata Blu-ray was sold out, a character heavily resembling Char Aznable from Mobile Suit Gundam can be seen on the lower right corner of the sold out sign.
While watching the Blu-ray of Mobile Battleship Nadecata at the Sanzenin Mansion, Chiharu brings up the character RuriRuri while arguing with Nagi. This is a reference to the character Ruri Hoshino from the series Mobile Battleship Nadesico.
Community content is available under
CC-BY-SA
unless otherwise noted.