When We Were Young, We Were Shocked When We Learned Izumi-chan's Secret In Living Game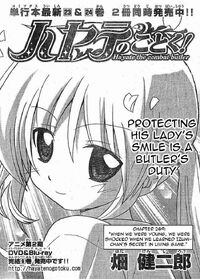 Chapter Info
| | |
| --- | --- |
| Volume | 25 |
| Chapter | 269 |
| Japanese Title | 若い頃の僕らはりびんぐゲームでいずみちゃんの秘密を知りショックを受けたりもした |
| Cover Character(s) | Nagi Sanzenin |
| Total Pages | 16 |
| Year Released | 2010 |
Chapter Chronology
Hayate no Gotoku! Chapter 269: When We Were Young, We Were Shocked When We Learned Izumi-chan's Secret In Living Game
Characters in Order of Appearance
Little Boy
Little Boy's Grandpa
Haru (Chiharu Harukaze)
Kashiwagi (Scar-Eyed Yakuza)
Summary
Hayate is seen looking sad on a train, maybe pondering over buying the new house. Whilst at the Sanzenin mansion Sakuya is seen conversing with Nagi. Klaus and Mikado then start discussing the reasons why Nagi and Co. have to move out then Mikado gets a call from Maria, which seems to be a threat towards Mikado as Mikado is seen turning pale. Sakuya meets with Isumi they then start discussing Nagi's departure of her mansion, then Chiharu appears in her maid outfit and Sakuya tells Chiharu of Nagi's predicament.
The scene shifts back to Hayate who is know in front of a real estate, just as he goes in he sees a familiar face.Its the Scar-Eyed Yakuza that tried to sell Hayate for his organs at the beginning of the series. They recognize each other simultaneously, the scar eyed yakuza begins to mention how expensive houses like the one he's looking for are.
Hayate then changes into a Hakuou Academy uniform which could be a method of gaining more money. Hayate is then told to wander the streets looking for people, he then bumps into Klaus, with Klaus blushing as they impact...
Trivia
Community content is available under
CC-BY-SA
unless otherwise noted.