Mystery Room ⑧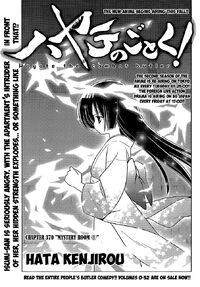 Chapter Info
| | |
| --- | --- |
| Volume | 34 |
| Chapter | 370 |
| Cover Character(s) | Isumi Saginomiya |
| Total Pages | 16 |
| Year Released | 2012 |
Chapter Chronology
Hayate no Gotoku! Chapter 370: "Mystery Room ⑧"
Characters in Order of Appearance
Alice (Athena Tennousu)
Aoi Himegami - shown in photo
Summary
Isumi and Yozora battle out but the latter manage to escape through a window. Isumi later requests a room to use as a guardroom and decides to use the same secret room (since the coffin was burned up) The Violet Mansion seems more livelier due to the increased in number of Occupants. Back in Sakuya's House, Isumi asked her who the person is in the torn photo to which she replies that it is Himegami when he was much younger. Isumi then proceeds to burn the photo while in deep thought.
Trivia