Jurassic World: Dominion Dominates Fandom Wikis - The Loop
Play Sound
Hayate no Gotoku!! OVA
Atsu ga natsui ze Mizugi-han!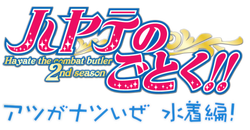 OVA Info
| | |
| --- | --- |
| Japanese Title | アツがナツいぜ 水着編! |
| Romanized Title | Atsu ga natsui ze Mizugi-han! |
| English Title | This The Hot Summer Swimsuit Edition! |
| Directed by | Yoshiaki Iwasaki |
| Studio | J.C.Staff |
| Release Date | 6 March 2009 |
| Length | 27:02 |
Theme Song Info
Web Site
Official Site
Hayate no Gotoku!! OVA Atsu ga natsui ze Mizugi-han! (ハヤテのごとく!! OVA アツがナツいぜ 水着編!, Hayate no Gotoku!! OVA Atsu ga natsui ze Mizugi-han!?) (Translated as Hayate The Combat Butler 2nd Season OVA - This The Hot Summer Swimsuit Edition! ) is the OVA of Hayate no Gotoku! which was released in the period of the 2nd Season. This also counts as both Episode 0 and the ending of the 2nd season.
Synopsis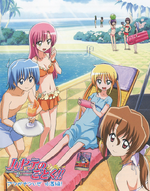 Taking place after TV Series, Hayate is surprised about how wonderful the private beach at the Sanzenin Mansion is. But he feels shocked after he knows the cost of this place. Hayate invites Nagi to swim with him, but Nagi says that humans can't float in the water and refuses to go. Maria tells him the true reason that Nagi can't swim. Hayate then tells Nagi that he will teach her how to swim. Nagi accepted at first but after Hayate tells her to change into swimsuit, Nagi refuses because she feels embarrassed about Hayate seeing her in her swimsuit and thinks that it is too fast for them to see each other in swimsuits.
Trying to make Nagi join in the fun, Maria invited Yukiji, The Hakuou Three Amiga, Sakuya, Isumi, Wataru and Saki to the private beach inside the Sanzenin estate. Maria also asks Hayate to wear cute girl swimmsuit, but he refuses. Everyone is having fun at the beach by playing on water slides and sunbathing. Hayate sees that Yukiji also asks Shiori to come to the beach as well. They end up having a drink with Sister who was just passing through. This makes Nagi jealous and she ends up reading her magazine upside down. Hayate tries to persuade Nagi one more time. Nagi still refuses. Maria come to invite Hayate. He refuses to go because of his concern about Nagi, but she says that it's ok for her to be alone. Hayate then goes to swim with everybody.
In front of the Sanzenin Mansion, Hinagiku comes to pick her sister up before she makes any trouble and meets Ayumu who came to ask Hayate to go on a date with her. At the beach, everyone goes to play volley ball. Maria asks Hayate to check on Nagi again believing she has given up and wants to join. While searching, he accidentally sees Aika and Chiharu starting to change. Escaping from that situation, Hayate ends up seeing Hinagiku also changing . He apologizes and escapes again. He finds Ayumu while she assumes the role of him at the other room. Hayate finally finds Nagi who changes her mind and is ready to go into the open water, but she finds out that Hayate saw the other girls changing. She gets angry and runs away from him.
Hayate, Hinagiku, and Ayumu then find Nagi. They found out that some wind had blown in and stripped Saki and Izumi of their swimsuits. Hayate looks at the sky and finds out that the cause is Nagi who got possessed by an evil spirit who hated the beach. Sakuya tries to find Isumi for help but Isumi got lost again. Hayate jumps to rescue Nagi. He tells Nagi that he's sorry for what happend, and for her to please come back to him. This causes Nagi to come back to consciousness and the evil spirit can no longer possess her. Both of them fall in to the sea and got hit by the waves. The evil spirit tried to attack some more but ended up losing to Isumi who came back just in time.
Nagi wakes up and finds out that she and Hayate are stranded on an island. Hayate is still unconscious, so Nagi tries to give Hayate a CPR but he wakes up and embarrasses her just before she kissed him. At sunset, they wonder what's going happen to them while they are stranded until they find Maria and everyone else there. Hayate realizes just how big the Sanzenin estate is.
Trivia
Although this OVA counts as Episode 0 and was released before the TV Series, the story of this OVA takes place after the TV Series due to the appearance of Masamune and Sonia Shaflnarz.
While in the room, Nagi is seen reading a Shounen Sunday, the magazine the manga Hayate no Gotoku! is serialized in.

Additionally,  the magazine she is reading also has Hayate and herself as well as the Hayate no Gotoku! logo on the cover.

The elevator that Klaus uses is a parody of the Eva Lift from the anime series Neon Genesis Evangelion.
New Characters
Gallery