Jurassic World: Dominion Dominates Fandom Wikis - The Loop
Play Sound
Hayate no Gotoku! CardBattlers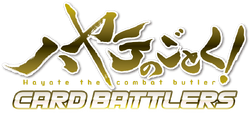 Info
| | |
| --- | --- |
| Developer | DeNA |
| Published | DeNA Under Mobage platform |
| Release Date | October 15, 2012 |
| Server Close Date | May 30, 2014 |
| Genre | Trading Card Game |
| Rating | CERO : Unrate |
| Platform | iOS Device, Android Device, Japan mobile phone |
Web Site
Official Site
Hayate no Gotoku! CardBattlers (ハヤテのごとく!カードバトラーズ, Hayate no Gotoku! CardBattlers?) is the Hayate no Gotoku! online mobile game made by DeNA. The game was released on October 15, 2012, but due to low popularity the game was shutdown on May 30, 2014.
Gameplay
This game is smilar to many card games on mobile. The player needs to collect cards of many characters from the Hayate no Gotoku! series, level up the character cards and do battle to gain ranks. Cards and items can be found during gameplay of the story, gashapon slot machine, trade, or participate in the events. The game uses a micro transaction payment model to allow the player who paid cash to gain an advantage over the free player.
Type of character card
Character cards are divided into 3 types: "Passion", "Elegance" and "Intelligence'. Each type has specific a state. Each card also has its own rarity (Common, Uncommon, Rare, etc). Each card can level up to increase its states and unlock the voice.
Passion
Passion cards have a higher Attack than Explosion state. There are cards of Nagi Sanzenin, Tama, Ruri Tsugumi, Hinagiku Katsura, Hayate Ayasaki (includes Hermione alias), Maria, Yukariko Sanzenin, Yukiji Katsura, Sakuya Aizawa, Risa Asakaze and Kayura Tsurugino in this type.
Elegance
Elegance cards have an Explosion higher than their Attack state. There are cards of Maria, Wataru Tachibana, Miki Hanabishi, Isumi Saginomiya, Hatsuho Saginomiya, Yukiji Katsura, Chiharu Harukaze, Hayate Ayasaki, Izumi Segawa, Ruri Tsugumi, Nishizawa Ayumu, Saki Kijima, Shiori Makimura, Sonia Shaflnarz, Nagi Sanzenin, Sakuya Aizawa and Risa Asakaze in this type.
Intelligence
Intelligence cards balance the state of both Explosion and Attack. There are cards of Hinagiku Katsura, Izumi Segawa, Yukiji Katsura, Nishizawa Ayumu, Hayate Ayasaki (includes Hermione alias), Seishirou Klaus, Maria, Nishizawa Ayumu, Ruri Tsugumi, Nagi Sanzenin, Chiharu Harukaze, Miki Hanabishi, Risa Asakaze and Sakuya Aizawa in this type.
Card Gallery
Nagi Sanzenin
Hinagiku Katsura
Maria
Ayumu Nishizawa
Hermione Ayasaki
Sakuya Aizawa
Chiharu Harukaze
Saki Kijima