Hayate no Gotoku! Character Album - HiNA3 Message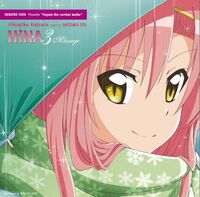 Single By Shizuka Ito
| | |
| --- | --- |
| Release Date | September 25, 2013 |
| Genre | Image song, J-Pop |
| Produce | Geneon |
| Signature Album of | Hinagiku Katsura |
Hayate no Gotoku! Character Album - HiNA3 Message is the third special character CD of Hinagiku Katsura. The limited edition included a Blu-ray/DVD. Both the limited edition and standard edition were released on September 25, 2013, by Geneon.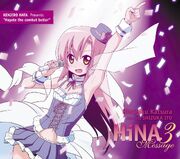 Track listing
Message
Haru ULALA LOVE yo Koi!!! (Japanese:

春ULALA♡LOVEよ来い!!!

)
Girls Power CARNIVAL!!
Ame-iro Egao (Japanese:

雨色笑顔

)
Good Morning
1-Miri (Japanese:

1ミリ

)
Daikirai wa koi no hajimari (Japanese:

ダイキライは恋のはじまり

)
Massuguna Niji (Japanese:

まっすぐな虹

)
Mataashita (Japanese:

また明日

)
Planeta Sai Yumu (Japanese:

プラネタサイリユム

)
Special Thanks -Kimi e- (Japanese:

Special Thanks -君へ-

)
Trivia
There is a Bonus Video hidden in this Character Album.

The Bonus Video is set in an alternate world where Hayate had never met Nagi and Maria and never became a Sanzenin Butler, but met Hinagiku by chance where Hayate and Hinagiku had ended up together. This bonus video acts as a non-canon ending.