Hayate no Gotoku! Drama CD 1 - Hermione Ayasaki And The Private Lessons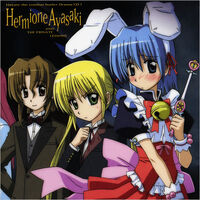 Drama CD By Main Characters Voice Actor/Actress
| | |
| --- | --- |
| Release Date | August 24, 2007 |
| Genre | Drama |
| Length | 30:10 |
Hayate no Gotoku! Drama CD 1 - Hermione Ayasaki And The Private Lessons is the first drama CD based on the anime version of the series Hayate the Combat Butler. It was first released on August 24, 2007 by Geneon.
Track listing
"Hayate no Yume"
"Title Call"
"Sore, Donna Josō Gaku"
"Character Song no Zensetsu no Yōna"
"Motto Sugao de Hermione"
"Character Song no Nochi Setsu no Yōna"
"Munasawagi no Hōkago"
"Arigachi na Gokai"
"Gofukuya Pierre to Mayutsuba na Shinjitsu"
"Mahō Shōjo Tanjō!"
"Fushigi O Jikū ni Hikizuri Kome!"
"Ai to Jounetsu no Carnaval"

Vocals: Shizuka Itō
Lyrics: Mike Sugiyama
Music: Kōhei Tanaka
Arrangement: Takayuki Negishi

"Kettō! BGM wa Kenka wo Yamete"
"Daidanen"
"Hayate no Gotoku! Owari Shō Shutsuensha go Aisatsu"
Story
Cast listing