Hayate no Gotoku! Drama CD2 - Shissou! Hakuo Gakuin Bus Tour to Maria-san no Hitorigoto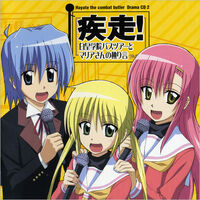 Drama CD By Main Characters Voice Actor/Actress
| | |
| --- | --- |
| Release Date | March 7, 2008 |
| Genre | Drama |
| Length | 42:36 |
Hayate no Gotoku! Drama CD2 - Shissou! Hakuo Gakuin Bus Tour to Maria-san no Hitorigoto is the second drama CD based on the anime version of the series Hayate the Combat Butler. It was scheduled for release on February 22, 2008 but it was later changed to March 7, 2008 by Geneon.
Track listing
"Hakuou Gakuin Bus Tour Hasshin! ~Gasshou 'Uchuu Senkan Yamato'~"
"Fuan na Bus Guide-san Niyoru Fuon na Introduction"
"Rental Video Shop Tachibana Nite"
"Sore wa Tour Janakute Adventure ~Nesshou 'Maka Fushigi Adventure'~"
"Nishizawa-san Let's Bowling!"
"Heya to Karaoke to Maria-san"
"Koukaon de Iku Yakinikuya Kara Taikiken Soto Made"
"Drama CD Toieba, Yappa Onsen desu yo ne"
"Gou Gou Seitokai Tan Ken Jaa"
"Onsen ni Heiwa wa Modotta ga, Bus Tour wa Seikimatsu ~Houkou 'Ai wo Tori Modose!!'~"
"Sakura no Shita de"
"Shutsuensha Goaisatsu"
"Yume no Nakademo Soba ni iru"
Story
Cast listing