Hayate no Gotoku!
Heaven is a Place on Earth
Original Soundtrack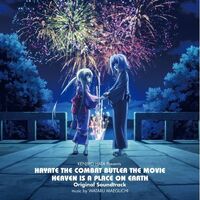 Soundtrack By Wataru Maeguchi
| | |
| --- | --- |
| Release Date | August 31, 2011 |
| Genre | Anime soundtrack |
| Length | 37:26 |
| Produce | Geneon |
Hayate no Gotoku! Heaven is a Place on Earth Original Soundtrack is the soundtrack of the movie Hayate no Gotoku! Heaven is a Place on Earth released by Geneon on August 31, 2011. The soundtrack is composed and arranged by Wataru Maeguchi.
Track listing
1. Ojousama to Shitsuji ~Natsu no Inaka
2. Bokura, Kakeyuku Sora e (Movie EDIT)
3. RO-I-HO
4. Inaka Kuru?
5. Nani mo Nai ga Aru!
6. Konchuu Kansatsu, Mizuasobi, Himawari
7. Nagi Harae!
8. Ooki na Sora to Shiroi Kumo
9. Ichidou Danran
10. Manatsu no Yoru no Oyakusoku
11. Dare ka Issho ni......
12. Ojousama to Shitsuji ~Manten no Hoshizora
13. Suzu no Oto wo Otte
14. Kin-iro no Yuuenchi ~Tadami Yuuen
15. Hanarebanare
16. Tadami Yuuen CASTLE FANTASIA
17. Tropical ~Hakuou no Poolside nite
18. Precious ~Ooinaru Hihou e
19. Omoidasenai......
20. Sonna Tadami Yuuen
21. 1200-man Power Riron
22. Omowaseburi na Shitsuji
23. Hurry Up ~Unabara e Dive
24. Shoujo kara no Teian
25. Suzune
26. Shitsujichou Yuiitsu no Deban
27. Omoidase......
28. remind
29. Zettai Zetsumei! ~Jutsushiki Yatsuha
30. Kiki Ippatsu! ~Hakuou
31. Ojousama no Shitsuji
32. Invisible Message (Movie EDIT)
33. Heaven is a Place on Earth (Movie EDIT)
34. Natsu Matsuri no Yoru
Community content is available under
CC-BY-SA
unless otherwise noted.