Hayate no Gotoku! LIVE 2009 Hina Festival & Carnival!!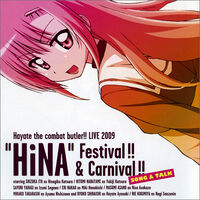 Live Concert By Main Characters Voice Actor/Actress
| | |
| --- | --- |
| Release Date | June 24, 2009 |
| Genre | Jpop |
| Length | 2:15:31 |
| Produce | Geneon |
| Signature Album of | Hinagiku Katsura |
Hayate no Gotoku! LIVE 2009 Hina Festival & Carnival!! is the Live Concert of Hayate no Gotoku! on March 1, 2009. It was then released as a CD on June 24, 2009.
Track listing
Disc 1
Kagenare ~Mou Sukoshi Matase Toku?~
100ten Manten Nanka ja nai!
MC ~Youkoso "Hina Matsuri Matsuri!!" he~
Zankoku na Tenshi no Thesis
Power of Flower
MC ~Onee-chan wo Shoukai Shimasu!~
JENNY ~Sen It's my Soul~
MC ~Katsura Shimai no Keimyou na Kaiwa~
Jiyuu Sanka
TALK ~Asa no Homeroom Muteki na Nori de~
Hakuou Gakuin Seitokai Kokoroe
Hakuou Gakuin Seitokai Fukokroe
Disc 2
MC ~Sannin Musume, Kyou no Ikigomi~
Gomen de Sumu Nara Koi Nadoshi nai
MC ~Futsuu no Kaiwa?~
Kimi ga iru Kara ~Just Windy Love~
TALK ~Surprise na Toujou Jinbutsu~
MC ~"Hina" Toiu Album wo Release Shimashita~
Binetsu
Ashita no Watashi
MC ~Kyou no Saigo ni~
Heart of Flower
MC ~Encore Shutsuensha go Aisatsu~
HAKUO Gakuin Kouka Seishou "The School Song of HAKUO GAKUIN "