Kidnapping and love confession is a nice line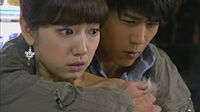 Episode Info
Episode
1
Japanese Title
誘拐と、愛の告白は紙一重
Romanized Title
Yūkai to, ai no kokuhaku wa kamihitoe
English Title
Kidnapping and love confession is a nice line
On Air
Online
7 October 2011
TV
6 April 2012
19 June 2011 (EP1)
Theme Song Info
Episode Navigation
Hayate no Gotoku! ~ Ikemen Shitsuji ga Omamori Shimasu ~ Episode 1, title name as "Kidnapping and love confession is a nice line" (誘拐と、愛の告白は紙一重, Yūkai to, ai no kokuhaku wa kamihitoe?) is an episode of the live action TV series. This episode aired on October 7th 2011 (Online) and April 6th 2012 (BS Channel) in Japan. This episode is also included in Taiwan's episode 1 that aired on June 19th 2011.
Synopsis
Based on
Differences from the original story
Trivia
New Characters
Community content is available under
CC-BY-SA
unless otherwise noted.