Yudantaiteki! Moteki advisory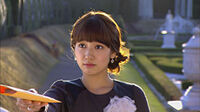 Episode Info
Episode
9
Japanese Title
油断大敵! モテキ注意報
Romanized Title
Yudantaiteki! Moteki chūihō
English Title
Yudantaiteki! Moteki advisory
On Air
Online
2 December 2011
TV
1 June 2012
24 July 2011 (EP5)
31 July 2011 (EP6)
Theme Song Info
Episode Navigation
Hayate no Gotoku! ~ Ikemen Shitsuji ga Omamori Shimasu ~ Episode 9, title name as "Yudantaiteki! Moteki advisory" (油断大敵! モテキ注意報, Yudantaiteki! Moteki chūihō?) is an episode of the live action TV series. This episode aired on December 2nd 2011 (Online) and June 1st 2012 (BS Channel) in Japan. This episode is also included in Taiwan's episodes 5 and 6 that aired on July 24th 2011 and July 31st 2011.
Synopsis
Based on
Differences from the original story
Trivia
Community content is available under
CC-BY-SA
unless otherwise noted.