Jin Zhijie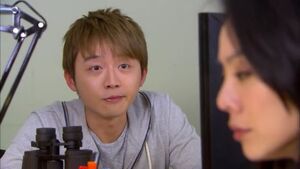 | | |
| --- | --- |
| Counterpart(s) | Kyonosuke Kaoru |
| Chinese Name | 金之介 |
| Pinyin Name | Jin Zhijie |
| Japanese broadcast Name | 薫 京ノ介 |
| Romaji broadcast Name | Kaoru Kyonosuke |
| Age | 31 |
| Gender | Male |
| Blood type | A |
| Zodiac | Capricorn |
| Status | Alive |
Family & Relationships
Information
Jin Zhijie (金之介 Jin Zhijie) is Kyonosuke Kaoru's counterpart in the live action TV series. He is an instructor at Bai Huang Academy and the co-worker of Gui Xuelu, the woman he is in love with.
Appearance
Zhijie has short red hair, which is a result of dyeing. He always wears a jacket with hood.
Characteristics and personality
Zhijie is a good teacher with a bad personality that he always focuses on his hobby. He always carries a binocular for secretly watching Xuelu from far away.
Story
Differences from the Counterpart
Although both of them have otaku related hobbies, Zhijie prefers reading manga while Kaoru prefers gunpla and figure collecting.
Trivia
Zhijie's name contains the same last character as Kyonosuke's (介) but read in Chinese style.