Ju Xuan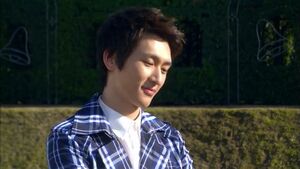 | | |
| --- | --- |
| Counterpart(s) | Wataru Tachibana |
| Chinese Name | 鞠宣 |
| Pinyin Name | Ju Xuan |
| Japanese broadcast Name | 橘 ワタル |
| Romaji broadcast Name | Tachibana Wataru |
| Age | 21 |
| Gender | Male |
| Blood type | AB |
| Zodiac | Virgo |
| Status | Alive |
Family & Relationships
Information
Ju Xuan (鞠宣 Ju Xuan) is Wataru Tachibana's counterpart in the live action TV series. He is Xiao Zhi's fiance. He owns and lives in a DVD rental shop.
Appearance
Xuan has short brown hair. He wears a Bai Huang Academy uniform at university, while he is usually seen wearing modern clothing outside and in his shop.
Characteristics and personality
Xuan can be both strong headed and stubborn like Xiao Zhi. He was initially hostile when first encountering Xiao Sa at Xiao Zhi's mansion. But unlike his counterpart, he never changed his view to Xiao Sa since he knows that Xiao Zhi is in love with Xiao Sa and considers Xiao Sa as a love rival.
Story
Differences from the Counterpart
Trivia