Kaibara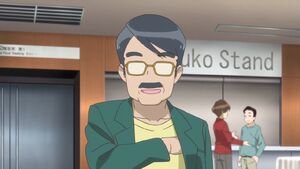 | | |
| --- | --- |
| Japanese Name | 海原 |
| Romaji Name | Kaibara |
| Name | Kaibara |
| Age | Unknown |
| Gender | Male |
| Birthday | Unknown |
| Height | Unknown |
| Weight | Unknown |
| Blood type | Unknown |
| Hair Color | Black |
| Eyes Color | Unknown |
| Status | Alive |
Personality
| | |
| --- | --- |
| Like | Unknown |
| Dislike | Unknown |
| Specialty | Unknown |
| Weakness | Unknown |
| Hobby | Unknown |
Family & Relationships
Manga & Anime
Kaibara (海原さん, Kaibara-san?) is a supporting character of Sore ga Seiyuu!. He is the producer of Buddha Fighter Bodhisattvon. He sees the talent in the three new rookie voice actress, Futaba Ichinose, Ichigo Moesaki, and Rin Kohana so he's willing to support them in their dream.
Appearance
Kaibara has short black hair. His glasses fully cover his eyes.
Story
Sore ga Seiyuu!
Hayate no Gotoku!
Kaibara was present at Ruka's concert at Hakuo Academy. After many students had noticed Hinagiku and Himegami flying over the campus, Kaibara orders the production crew to film the battle above them.
Trivia