Kayura Tsurugino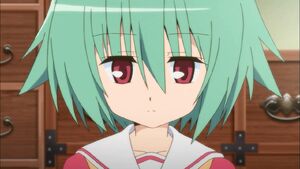 | | |
| --- | --- |
| Japanese Name | 剣野 カユラ |
| Romaji Name | Tsurugino Kayura |
| Name | Kayura Tsurugino |
| Age | 13 |
| Gender | Female |
| Birthday | February 14, 1992 (manga timeline) |
| Height | 143 cm (4'6") |
| Weight | 30 kg (66 lbs) |
| Blood type | O |
| Hair Color | Light Green |
| Eyes Color | Red |
| Status | Alive |
Personality
| | |
| --- | --- |
| Like | Manga, Cosplay |
| Dislike | Unknown |
| Hobby | Cosplaying |
Family & Relationships
Manga & Anime
Kayura Tsurugino (剣野 カユラ, Tsurugino Kayura?) is a new transfer student to Hakuo Academy, and a tenant to the Violet Mansion. She first appears as the replacement for Wataru Tachibana at Hakuo. She soon becomes good friends with Nagi. She is very into games, anime and manga, due to her early childhood.
Her name is derived from Lady Kayura, the heroine of Ronin Warriors (See Trivia below).
Appearance
Kayura has short light green hair and red eyes. She also has two even bangs on both sides of her face and a longer bang in the middle of her face. She is often seen cosplaying as characters from well known anime, while at school she wears a Hakuo Academy uniform, when not at school or cosplaying, she is usually seen wearing a blue tank top and a short denim skirt with red converse style sneakers.
In Hayate no Gotoku! CAN'T TAKE MY EYES OFF YOU and in Hayate no Gotoku! Cuties she is usually seen wearing various long sleeved t-shirts and capri style pants.
Characteristics and personality
It is revealed that due to her parents she has always been around anime, manga and games since she was born, and has read over 100,000 manga. She is also very supportive of cosplay, and often is seen wearing a costume of some anime. As with most other characters that go to Hakuo Academy, she is also a grade-skipper. Due to her manga experience, she is also able to understand Nagi's doujinshi manga, along with Isumi. According to Hayate, she is an elite Otaku .
Story
Introduction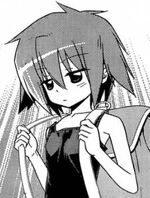 Kayura first appears at the end of Chapter 336, after Kirika Kuzuha had summoned her to her office, introducing her as a replacement student for Wataru who had dropped out of Hakuo Academy.
Becoming a tenant at the Violet Mansion
Days later, in a park near Akihabara, Kayura overhears Nagi's complainants about how she is supposed to create a manga that will sell a trillion copies. Sparking her curiosity, Kayura approaches Nagi, surprising her in the process (due to her alien costume), and asks her about the manga that could sell a trillion copies. After having read through Nagi's unfinished manga, Nagi offers to tell Kayura the rest of the story. Kayura then offers to take her back to her place, where it is then revealed that she had been living inside a tent set up in the park. After having taken off her alien costume, Kayura's conversation with Nagi is interrupted by a police officer who tears down her tent and arrests Kayura for causing trouble in the park. Having seen Kayura get arrested, Nagi attempts to intervene, but is nearly arrested herself before Hayate steps in and passes the whole incident off as a misunderstanding.
After having been freed, Kayura thanks Nagi for saving her and is taken back to the Violet Mansion and introduced to Maria as the new tenant. After having been asked about her parents, Kayura tells Nagi and Maria that she could live anywhere and begins to set up her tent in the backyard. After having finished setting up her tent, Nagi praises Kayura for choosing to live outside despite how hot it got during the summer, which prompts Kayura to relocate indoors. As Kayura was unpacking her belongings, Hayate and Nagi learn that she had read over a hundred thousand manga titles. Hayate asks Kayura to become an adviser for Nagi's manga, but she refuses, her reason being that they had just met, and she was busy with reading manga. However, she then later gave advice to Nagi, to not make a simple to understand manga like how Ruka and Hinagiku are doing, but to do the opposite, and make the manga the way she thinks is right, no matter what others think. Afterwards, she and Nagi become very good friends.
First Day at Hakuo Academy
On her first day at Hakuo Academy, Kayura is given a tour of the campus by Hayate and Nagi. After having shown her one of the school specialties: "the drunk teacher", Kayura interrupts Hayate's tour and asks for him to take her to the clock tower. After having seen the view from the terrace of the clock tower, Kayura tells them that she was glad to have come to the school and tells Nagi that she was glad to have met her. Before heading to her class to introduce herself, Kayura asks Hayate what was beyond the closed door in the student council room. He tells her that it was another one of the school specialties and casually opens the door as he told her that if the door was suddenly opened then there was an extremely high chance that they would find Hinagiku changing. As he said that, Kayura sees an embarrassed Hinagiku on the other side of the door who then hits Hayate, while reminding him that he should knock first before opening a door.
Summer Break
Later on she joins Nagi and friends at Nishizawa's spring house to enjoy the summer break in Hayate no Gotoku! Heaven is a Place on Earth.
CAN'T TAKE MY EYES OFF YOU (Anime Only)
Later, after witnessing Nagi refusing to accept Ruri as her sister, Kayura convinces Nagi to give her a chance to prove herself. Then later she along with Chiharu give their commentary while witnessing Ruri demonstrate her skills in Systema on Hayate.
Cuties (Anime Only)
During a social gathering for the tenants of the Violet Mansion, Hayate and Nagi observe Kayura as she was eating and making weird remarks to them. This prompts them to reminisce about the time when Kauyra had moved into the Violet Mansion and of her first day at Hakuo Academy. Afterwards, as the tenants where returning to their rooms, Kayura observes Hayate as he was on his way to Hinagiku's room to return her shirt and overhears Chiharu tell him that he is way too unguarded. Joining in, Kayura adds that he shouldn't take his instant feelings too seriously. Afterwards, Kayura witnesses Hinagiku hit Hayate, after he had accidentally saw her as she was changing.
Character CDs & Signature Singles
Trivia
List of Cosplays
The following is a list of anime/manga characters that Kayura has been seen cosplaying as throughout Hayate no Gotoku!
Community content is available under
CC-BY-SA
unless otherwise noted.