Kazuki Nishizawa
| | |
| --- | --- |
| Japanese Name | 西沢 一樹 |
| Romaji Name | Nishizawa Kazuki |
| Name | Kazuki Nishizawa |
| Other Name | Kazuki |
| Age | 13, 14 (with the passage of time) |
| Gender | Male |
| Birthday | June 16, 1991 |
| Height | Unknown |
| Weight | Unknown |
| Blood type | A |
| Hair Color | Brown |
| Eyes Color | Violet |
| Status | Alive |
Personality
| | |
| --- | --- |
| Like | Unknown |
| Dislike | Unknown |
Family & Relationships
Manga & Anime
Kazuki Nishizawa (西沢 一樹, Nishizawa Kazuki?) is the younger brother of Ayumu Nishizawa. Like his sister, Kazuki also has his share of love troubles. He fell in love with Nagi at first sight when he saw her filled with melancholy as she looked up at the cherry blossoms. It turned out that she had escaped from her SP bodyguards for a brief moment and was wondering what was written on the note that was attached to a balloon stuck in the tree. After the parting of their first meeting, Kazuki went up to the tree and retrieved the note.
Appearance
Kazuki has short brown hair and violet eyes. He wears glasses much like his father Yasuhiro.
Story
"Dating" Nagi
During the course of time, Kazuki found out that his good friend
Wataru
was engaged to Nagi, but with no romantic feelings between the two. He is a regular visitor of Wataru's video rental shop, being a good friend with Wataru, as well as always seeking information and updates on Nagi, until one day a chance meeting with Nagi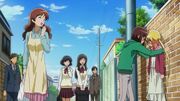 allowed him to confess his feelings to her on a public street while crying. His pitiful yet determined confession did not make Nagi falter in her love for
Hayate
, but his knowledge of a normal lifestyle that was foreign to Nagi earned him a date with her.
The date went extremely well as Kazuki showed Nagi many things she had never seen before such as a subway station and an express train. He made her experience doing normal activities, of which she would normally not do, such as going to the arcade and buying from a food stand. The date was at its high point when they went out to a lake on a small boat. But the romantic atmosphere ultimately disappeared when Nagi almost fell overboard, but was caught by a hiding Hayate, who they found had been tailing and assisting them the entire day. With this meeting between Nagi and Hayate, Kazuki quickly realized that Nagi was in love with Hayate, who he found himself wanting to be like. But the date did not end on a low note because Nagi had finally come to remember her first meeting with Kazuki. But when pressed about what was written on the note on that fateful day, Kazuki revealed that it was a rejection letter.

But there is not much need to pity Kazuki, since he can seek the counsel of his friend Wataru, his connection to Nagi, or that of his sister Ayumu, a self-proclaimed love master.
Community content is available under
CC-BY-SA
unless otherwise noted.