Mahou Sensei Negima! Hayate no Gotoku! Cover Album R02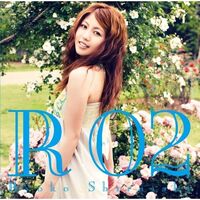 Single By Ryōko Shiraishi
Mahou Sensei Negima! Hayate no Gotoku! Cover Album R02 is a single by Ryōko Shiraishi that was released on August 10, 2011 in Japan by King Records. This single is the cover album for Mahou Sensei Negima! Anime Final and Hayate no Gotoku! Heaven is a Place on Earth.
Track listing
1.Oh!My Honey
2. a precious pride

From Mahou Sensei Negima! 2nd ED Single - Oshiete Hoshii zoo, Shishou

3. Power of Flower
4. KIZUNA

From Mahou Sensei Negima! Character CD - Mahora Gakuen Chuttobu 2-A 11 Gatsu Budou Shitennou 4 Ningumi

5. Shootin' Star
6. Ijiwaru na Kuchibiru

From Negima!? Uta no CD 2

7. Kimi ga Iru Kara ~Just Windy Love~
8. A-LY-YA!

Ending Song From Negima!? OP Single - 1000% SPARKING!