Makita & Kunieda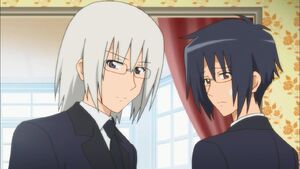 Japanese Name

巻田と国枝

Romaji Name
Makita to Kunieda
Name
Makita & Kunieda
Other Name
Makita-kun, Kunieda-kun
Age
35 (Makita)
34 (Kunieda)
Gender
Male
Birthday
Unknown (both)
Height
Unknown (both)
Weight
Unknown (both)
Blood type
Unknown (both)
Hair Color
Light Black (S1) - Makita
White (S4) - Makita
Light Brown (S1) - Kunieda
Black (S4) - Kunieda
Eyes Color
Blue - Makita
Brown - Kunieda
Status
Alive (both)
Personality
Like
Unknown (Makita)
Reading books (Kunieda)
Dislike
Unknown (both)
Specialty
Playing guitar, Combats (Makita)
Combats (Kunieda)
Family & Relationships
Manga & Anime
Makita & Kunieda (巻田と国枝, Makita to Kunieda?) are Sakuya's personal butlers. They don't appear unless they're told to do a task. Makita and Kunieda are very skillful, as they can complete tasks instantly and perfectly, even amazing Hayate with their skill. In the anime, it is revealed that Makita plays the guitar and Kunieda likes to read books. Makita is 35 years old. Kunieda is 34 years old.
Appearance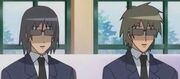 Makita has short white hair and has blue eyes. Kunieda has short black hair and has brown eyes. They both wear matching glasses and matching dark navy suits as their butler outfits.
Aizawa household

Alive
Employee
Community content is available under
CC-BY-SA
unless otherwise noted.