Rental Video V Tachibana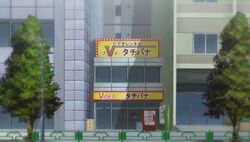 Information
Manga & Anime
Rental Video V Tachibana (レンタルビデオタチバナ新宿本店, Rentarubideo Tachibana Shinjuku honten?) is a video store that is run by the current head of the Tachibana family Wataru Tachibana with his maid Saki Kijima as his employee. This video store contains a lot of rare videos that match Wataru's tastes (such as episode 12 of Ultra Seven, which was banned in Japan). The second floor of the store serves as their home. After a decline in business, Wataru shuts down the video store and focuses all his efforts in his new business. After moving to the new location, the former video store still serves as their home.
Community content is available under
CC-BY-SA
unless otherwise noted.