Sayo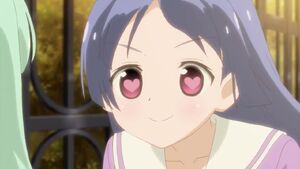 | | |
| --- | --- |
| Japanese Name | サヨ |
| Romaji Name | Sayo |
| Name | Sayo |
| Age | 14 - 15 |
| Gender | Female |
| Birthday | Unknown |
| Height | Unknown |
| Weight | Unknown |
| Blood type | Unknown |
| Hair Color | Dark Blue |
| Eyes Color | Dark Pink |
| Status | Alive |
Personality
| | |
| --- | --- |
| Like | Unknown |
| Dislike | Unknown |
| Specialty | Unknown |
| Weakness | Unknown |
| Hobby | Unknown |
Family & Relationships
Manga & Anime
Sayo (サヨちゃん, Sayo-chan?) is a supporting character of Sore ga Seiyuu!. She is a close friend of Rin Kohana and also a third year student at Hakuo Academy middle school.
Appearance
Sayo has long dark blue hair and dark pink colored eyes, the pupils of which are usually depicted in the shape of a heart. She is usually seen dressed in a Hakuo Academy middle school uniform similar to Rin.
Story
Sore ga Seiyuu!
Sayo is a close friend of Rin at school. She assumes herself as Rin's first fan and supports her in many ways, such as clipping a column about Rin from a newspaper, or giving her cough drop medicine.