Stringer Segawa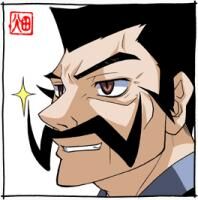 | | |
| --- | --- |
| Japanese Name | 瀬川 ストリンガー |
| Romaji Name | Segawa Sutoringā |
| Name | Stringer Segawa |
| Other Name | Tou-san, Stringer-san |
| Age | Unknown |
| Gender | Male |
| Birthday | Unknown |
| Height | Unknown |
| Weight | Unknown |
| Blood type | Unknown |
| Hair Color | Black |
| Eyes Color | Red |
| Status | Alive |
Personality
| | |
| --- | --- |
| Like | His daughter Izumi |
| Dislike | Trash-looking boys flirting with his daughter |
Family & Relationships
Manga & Anime
Stringer Segawa (瀬川 ストリンガー, Segawa Sutoringā?) is Izumi and Kotetsu's father.
Appearance
Stringer has black hair, a black moustache and red eyes.
Story
He was introduced in Chapter 170, when Miki and Risa were wondering where Izumi was. He is very proud of his moustache even though Miki and Risa stated how annoying it is.
He is also very protective of his daughter, Izumi, and states if any boy she likes or falls in love with is trash he will kill him with his own hands, referring to Hayate. He also likes to see Izumi in a maid uniform and cosplay as a sign of affection and fatherly love for Izumi.
He also has a favorite catch phrase for all trash: "You punk!"
He is a victim of Hayate's misunderstandings and tends to let his mind drift when it is about boys with Izumi.
He appears again in Chapter 407 when Izumi asked him to sponsor a competition that she, Miki and Risa were doing.