Suzune Ayasaki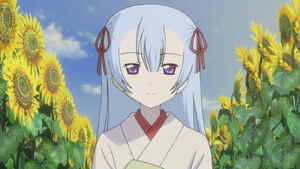 | | |
| --- | --- |
| Japanese Name | 綾崎 鈴音 |
| Romaji Name | Ayasaki Suzune |
| Name | Suzune Ayasaki |
| Age | Unknown (deceased) |
| Gender | Female |
| Birthday | Unknown |
| Height | Unknown |
| Weight | Unknown |
| Blood type | Unknown |
| Hair Color | Light Blue |
| Eyes Color | Violet |
| Status | Deceased (alive as a spirit) |
Personality
| | |
| --- | --- |
| Like | Her grandson |
| Dislike | Anyone who makes Hayate look miserable |
| Specialty | Unknown |
| Weakness | Unknown |
| Hobby | Unknown |
Family & Relationships
Manga & Anime
Suzune Ayasaki (綾崎 鈴音, Ayasaki Suzune?) is a mysterious girl who appears in the movie, Hayate no Gotoku! Heaven is a Place on Earth.
Appearance
Suzune appears as a young woman even though she's been dead for a long time. She has long light blue hair with thin red ribbons on the side of her hair and has violet eyes. She wears a kimono.
Characteristics and personality
Despite Suzune's slightly violent demeanor, she cares greatly for Hayate. She is very disappointed in her son Shun, for loading such a large debt on Hayate's shoulders. She only wishes for Hayate to be happy and goes to great lengths for him to be so.
Story
It is revealed that Suzune is actually Hayate's grandmother.
Suzune returns to Hayate as a spirit that Hayate sees while on vacation with his friends. Suzune recreates an amusement park that Hayate once visited as a child with her. Suzune believed that Nagi was causing Hayate to suffer because of her spoiled attitude and that he only stayed with her because of the debt. Suzune gives Hayate a diamond that would pay off the debt so he could live his own life. Despite this Hayate returns the diamond to her and says that he wants to pay off the debt on his own. Suzune then departs to the afterlife with a smile.
Trivia
Her name wasn't mentioned in the movie. But on the back of the cover on the Blu-ray & DVD box.
Suzune appears on the binding of Volume 31 of the manga.
Ayasaki family

Alive
Deceased

Suzune Ayasaki