Masumi Asano Guest Star
After watching many episodes, I think that I find out about some minor characters in each episode has the same face. And their face pattern is similar to main guest star face pattern. So I try to listen carefully, I hears that all of those characters voice by the same voice actress. And her voice is very similar to Risa Asakaze or Masumi Asano. I will list their appearance here later. The question is, do you think the same as me or not? And Is it OK to add this as a trivia? --Nechigawara (talk) 10:01, September 10, 2015 (UTC)
This is the list:
Episode 1 : One of the voice actress of Buddha Fighter Bodhisattvon.
Episode 2 : Futaba's co-worker at Lawson.
Episode 3 : Waitress at a famires.
Episode 4 : The interviewer.
Episode 5 : The hairdresser.
Episode 6 : One of Aozora Pro Staff.
Episode 7 : Director of audio book recording.
Episode 8 : Receptionist at TV station.
Episode 9 : Taxi Driver.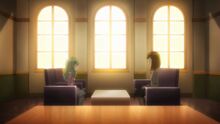 Episode 10 : Rin's Teacher.
What do you think? Do you think they are really voice by Masumi Asano? --Nechigawara (talk) 13:37, September 10, 2015 (UTC)
Opinion
about her voice,i think that person had same seiyuu but is hard to me comparing her voice to Masumi Asano. probably other can comparing that [who will better recognizing that].
Hissatsu (talk) 14:46, September 10, 2015 (UTC)
I remember this article from a few months ago said that Asano was asked if she was going to voice a character in the series and her response was that she couldn't say but fans would probably understand what she is talking about when they saw a certain scene within the anime. So it is possible that it is her inserted in each episode similar to the tanuki from Cuties - Hina sama (talk) 22:07, September 10, 2015 (UTC)
I personally haven't watched this series yet so i can't say anything about her voice, but the resemblance between these characters is striking. I think its safe to go ahead and add this as trivia. Rukapegasus (talk) 10:46, September 11, 2015 (UTC)
My senior who can read Japanese and also follow this series tell me that after I told him about this, she check the credit. Masumi Asano confirmed. :D --Nechigawara (talk) 12:59, September 11, 2015 (UTC)
Community content is available under
CC-BY-SA
unless otherwise noted.