Things about me
First of all, I don't really have much to say about myself....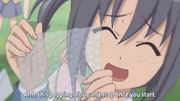 Probably because I'm not really that fond of in-depth introductions but first 
things first!
I really like the Hayate no Gotoku series may it be anime or manga mainly because the consistency is really nice and the comedy makes me laugh all along, and that is what made me get really hooked up in this series :D
The reason why my profile pic is from Shakugan no Shana and that my alias pertains to Sakai Yuji in the anime is because Shakugan no Shana was the very first anime where I really got into and my favorite character was Yuji himself. With this as enough reason, I started using the alias "Yuji" at some point in time when I joined the a clan in the game called Enemy Territory until I eventually ended up with the alias I am using now. I'm still in the middle of a decision where I think I should use plain "Mystes" as an alias in the future games that I shall be joining but enough of this ruckus and let us get over it.
There you have it! As you can see, I'm new to Wikia so I don't really have much in my profile page for now but we all know that time does pass by and I'll soon be able to get a grasp on things! I feel so old after seeing this again ._.
My favorite pages