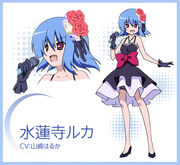 My profile
Name: Classified
Age: 19
My favourite characters: All of them.
My favourite thing about Hayate no Gotoku: The mixed-up romance, the slapstick comedy & the occasional battle scenes.
Any pictures that i add or have added onto this wiki i've taken from one of the four following sites:
This is for the sole use of this wiki; no offence intended.