Violet Mansion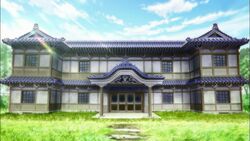 Information
Manga & Anime
Violet Mansion (ムラサキノヤカタ, Murasakinoyakata ?) is the temporary residence of Nagi, Hayate and Maria while Nagi lost her inheritance. 30 years ago, Yukariko, who wanted to marry Klaus when she was young, gave Klaus the Violet Mansion as some sort of betrothal gift. She also made a promise to a cat: she asked him to protect the house and to punish Klaus if he ever brings a woman over while she is abroad for medical treatment.
Violet Mansion became Nagi's new home, after she lost her inheritance and the right to live in the Sanzenin mansion. Klaus gave the house and lot back to Nagi believing it was about time to return it to its rightful owner, Yukariko's daughter. To begin her new life, Nagi thought she could rent out the rooms for income, after repairing the house. But it was old and not very attractive. Hayate decided to be "part" of the rent, promoting the Violet Mansion as a house with a free butler. Nagi, Hayate, Maria, Tama and the tenants, Chiharu, Hinagiku , Athena, (in child form) Kayura and recently Ruka and Ayumu are the current residents of the Violet Mansion.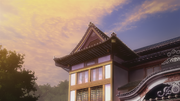 In Chapter 367, it is revealed that the Violet Mansion held a secret room that contained a coffin and an unusual pattern. Isumi believes that the room may have been used to contain a great "power". At some point, the room had lost it's purpose, and the mansion was given to Yukariko, with the belief that she would take care of the building.
After Nagi get back her right of Sanzenin's inheritance
In the Manglobe Timeline (CAN'T TAKE MY EYES OFF YOU, Cuties and 10th anniversary OVAs) and later in the Main Timeline, the Violet Mansion still appears. The butlers who manage this place now are Klaus and Hayate depending on the shift due to Nagi, Maria and Hayate moving back to the Sanzenin Mansion.
Trivia
In the manga, the Violet Mansion is often referred to as the "Yukari-chan House": this is to pay tribute to Yukariko.