Yuan Yefeng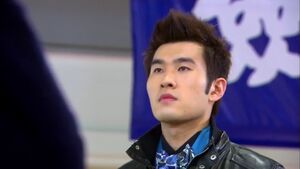 | | |
| --- | --- |
| Counterpart(s) | Kaede Nonohara |
| Chinese Name | 袁也楓 |
| Pinyin Name | Yuan Yefeng |
| Japanese broadcast Name | 野々原 楓 |
| Romaji broadcast Name | Nonohara Kaede |
| Age | 22 |
| Gender | Male |
| Blood type | A |
| Zodiac | Leo |
| Status | Alive |
Family & Relationships
Information
Yuan Yefeng (慕容兵侍 Yuan Yefeng) is Kaede Nonohara's counterpart and the guest character in the live action TV series. He is the personal butler of Kang Tailang.
Appearance
Yefeng has short brown hair. Unlike other butlers in the series, he never wore a butler uniform in his only appearance. Instead, he wore a black leather overcoat with a blue shirt.
Characteristics and personality
Yefeng has a strict personality similar to Kaede. He beats up his master when Tailang demanded that he defeat Xiao Sa with improper words without trying by himself first to educatee his master. He gives Xiao Sa respect as a fellow butler and giving him advice in this line of work.
Story
Differences from the Counterpart
Yefeng doesn't have a blood lust personality like his counterpart.
Trivia